OPTI-COAT PAINT PROTECTION FILM
HOW DOES IT WORK?
Stones, tree branches, and sharp objects are just a few of the daily driving hazards that can damage your vehicles paint. Opti-Coat is an 8 mil, optically clear film digitally cut to custom fit your car and then professionally applied to your painted surface. It works in complete synergy with all the Optimum professional coatings.
OPTI-COAT PPF SOFTWARE
To creat the perfect fit for your vehicle, we use Opti-Coat PPF software. This allows authorized dealers to download patterns of specific vehicle makes and models for precision cutting for a perfect fit.
PROTECTION THAT SUITS YOU!
You can choose your level of protection from partial hood and fenders to complete vehicle coverage. No matter what you choose we can always customize it to suit your needs.
WARRANTY
Opti-Coat PPF has a limited 7- year warranty and Opti-Coat Ultra has a limited 10-year warranty and by complementing PPF with our Opti-Coat professional coating you have PROTECTION GUARANTEED!!!!
WHY OPTI-COAT FILM?
Self Healing
Won't yellow, peel or crack
Optically clear
Easy to clean
Easy to remove
Works with Opti-Coat coatings
Starts clear and stays clear
Why Opti-Coat Ultra PPF?
• Glossy Finish
• Hydrophobic (Advanced water repelling properties)
• Anti-Contamination (Easy to remove contaminants)
• Fast Recovery (by heat or hot water)
• Stain Resistant
Call today for Appointment!!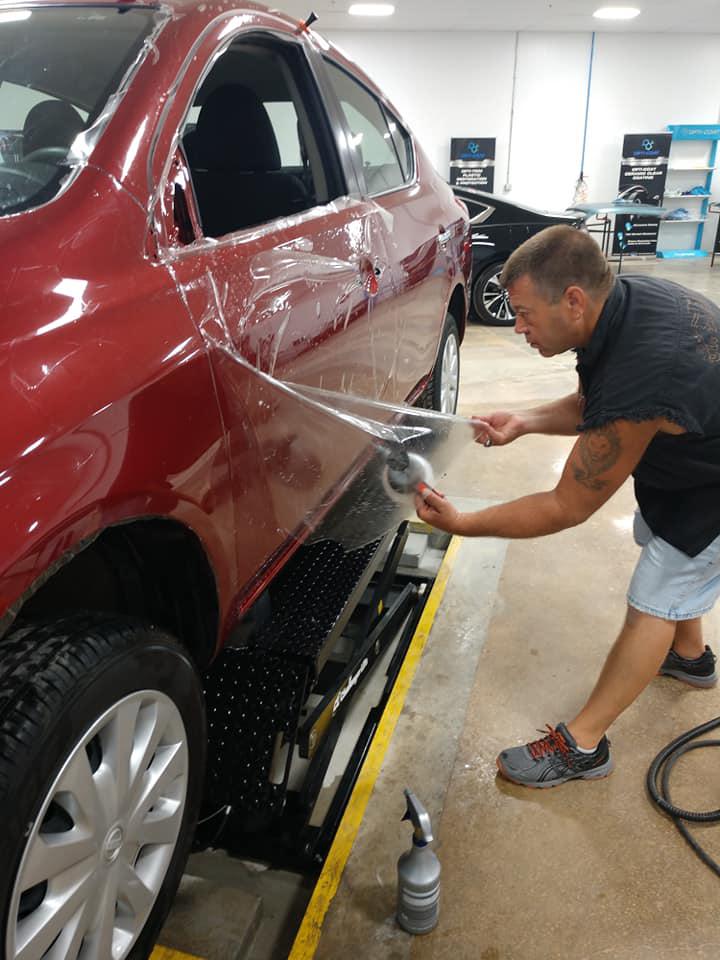 Size/Difficulty of bumper could increase price.
Full Hood Protection PPF $500
Difficulty or size of hood could increase price
-Full bumper
-18" up hood
-Mirror caps
Size/difficulty of vehicle could increase price
Highway Package PPF $1399
-Full bumper
-18" up hood
-Mirror caps
-Head llights
-A pillar
Size/difficulty of vehicle could increase price
-Full front bumper
-Grill if applicable
-Head lamps/Fog lamps
-Full hood
-Fender tips
-A pillar
-8" roof edge
Have oversize tires that can cause your paint to become chipped? This package will cover sides of truck to bottom of windows to protect the paint.
Custom PPF to areas not designed in plotting software, can be "bulked" onto a vehicle for a one of a kind fit with custom trimming.
$30sq ft. installed
Paint Protection Film PPF in the door jambs to prevent scratches and damage to the paint where your feet hit going in and out.
For your convenience and easier on your wallet, we make paying for your services hassel free!